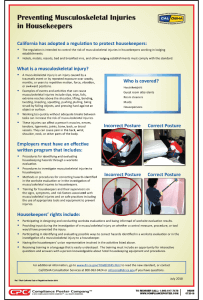 California employers in the hotel and lodging industry must comply with a new regulation (8 CCR § 3345) requiring employers to implement an effective, written safety program to prevent work-related injuries suffered by housekeeping workers.  The standard requires employers to perform an annual worksite evaluation, establish procedures to ensure safe work practices are followed, investigate musculoskeletal injuries and implement corrective measures, and provide housekeepers with the proper tools and equipment and training to reduce the risk of injuries.  The California Preventing Musculoskeletal Injuries in Housekeepers Poster is recommended by Cal/OSHA as part of each employer's safety program.
What types of establishments does the regulation apply to?
Hotels
Motels
Resorts
Bed and breakfast inns
Other lodging establishments
Who is protected?
Housekeepers can include employees referred to as:
Guest room attendants
Room cleaners
Maids
Housepersons
What is a musculoskeletal injury?
A musculoskeletal injury is caused by a single traumatic event or by repeated exposure over weeks, months or years to repetitive motion, force, vibration or awkward positions.  Musculoskeletal injuries can affect a person's muscles, nerves, tendons, ligaments, joints, bone, back, or blood vessels.  They can cause pain in the back, wrist, shoulder, neck, or other parts of the body.
Housekeepers are at risk for musculoskeletal injuries from the reaching, bending, squatting, applying pressure, pushing, pulling and lifting movements that are part of their routine job duties.  Common job tasks that put housekeepers at risk include:
Sweeping, dusting, scrubbing, mopping, and polishing of floors, tubs, showers, sinks, mirrors, walls, fixtures and other surfaces
Making beds
Vacuuming
Loading, unloading, pushing and pulling linen carts
Removing and supplying linen and other supplies in the rooms
Collecting and disposing of trash
Moving furniture
Housekeepers are also at risk from slips, trips, falls, falling objects, and working too quickly without adequate breaks between housekeeping tasks.
What are employers' responsibilities?
Employers must implement a musculoskeletal injury prevention program (MIPP) that includes the following:
Persons responsible for implementing the MIPP
A system for ensuring that supervisors and housekeepers comply with the MIPP
A system for communicating with housekeepers about occupational safety, hazards and injuries
Procedures for identifying and evaluating housekeeping hazards through worksite evaluations
Procedures to investigate musculoskeletal injuries to housekeepers
Procedures to correct identified hazards
Training for housekeepers and their supervisors on the signs, symptoms and risk factors for musculoskeletal injuries, the process for reporting safety concerns and injuries, body mechanics and safe work practices, and practice using housekeeping tools and equipment
What are housekeeping employees' rights?
To participate and be informed of worksite evaluations in a language they can understand
To practice using equipment or tools the housekeeper is expected to use
To ask questions and have questions answered during training
To provide input during an investigation of a musculoskeletal injury
To have a union representative participate in worksite evaluations and be present during an investigation of injuries
Through training, promptly correcting hazards and implementing control measures employers, supervisors and housekeeping employees can work together to prevent musculoskeletal injuries.  Begin by posting the California Preventing Musculoskeletal Injuries in Housekeepers Poster.