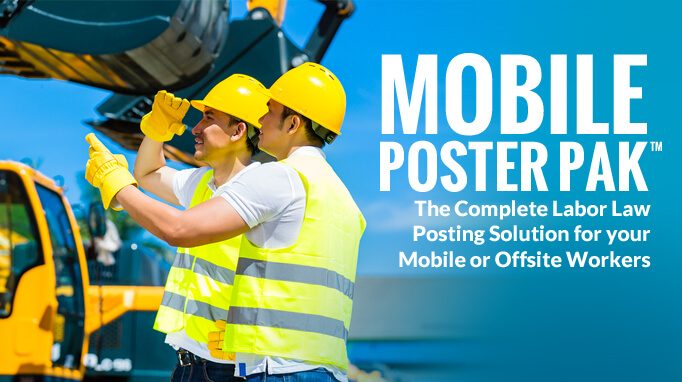 The mobile workforce is growing rapidly – do your remote workers have access to current labor law postings?
CPC's exclusive Mobile Poster Paks™ contain all required state and federal labor law posters for remote workers so even your offsite employees stay informed of the laws that apply to their work.
WE'VE DESIGNED A LABOR LAW COMPLIANCE POSTER SOLUTION FOR YOUR MOBILE/OFFSITE WORKERS
According to International Data Corporation (IDC), the U.S. mobile worker population is expected to reach 105 million in 2020.  With the mobile workforce on the rise, staying compliant can be a challenge.  Mobile or offsite workers may only have limited access to the labor law compliance posters displayed in your workplace.  That's why we created the Mobile Poster Pak™, a booklet of required labor law posters for remote workers.
Our Mobile Poster Paks are designed to ensure that labor law posters for your remote workers are always on hand.  Mobile Poster Paks contain all mandatory state and federal labor law notices along with useful health and safety notices.  The employee notices in each Mobile Poster Pak can be updated as they change with our exclusive Peel 'N Post™ update stickers.  Mobile Poster Paks can also be supplemented with optional add-on postings for specific cities, counties or industries that have additional employee notice requirements.
We've compiled these labor law posters for remote workers who do not regularly report to a central location where labor law notices are customarily posted and business operations where notice board posting is impractical.  Mobile Poster Paks are ideal for telecommuters, salespersons, service technicians, transportation and delivery personnel, contractors, healthcare workers, temporary employees, agricultural field workers and temporary locations such as vendor carts, mall kiosks, and carnivals.  Distributing these booklets to your remote workers is a great way to stay on top of compliance.  Mobile Poster Paks also serve as a convenient desktop reference resource for your HR department.
You can also supplement your state Mobile Poster Pak with industry-specific or city/county notices using a Mobile Poster Pak Add-On.
Get the Mobile Poster Paks that offer everything you need to remain compliant
Attractively bound booklet containing all required State, Federal and OSHA postings
Ideal for any company with mobile, offsite and outdoor workers and temporary work operations
A handy desk reference tool for executives, Human Resources personnel, department managers and safety supervisors
Available for all 50 U.S. States, District of Columbia, Puerto Rico, Virgin Islands, and Canada
Available in both English and Spanish
Optional customization including your company logo, colors and policies
Automatic update notifications of labor law changes
FREE FedEx 3rd day air shipping (for orders over $50.00 except Canada)
Contact our Compliance Team at 1-800-817-7678 or choose your State, Territory or Province below to find the Mobile Poster Paks you need:
Select Your State
Outside the US?