The Washington State Department of Labor and Industries is hoping all employers will give its two new free phone apps a try: the Good Observation, Near-Miss and Accident Reporting App and the SafeMe App. We took them for a spin and give them both two-thumbs up!
Good Observation, Near-Miss and Accident Reporting App
The Good Observation, Near-Miss and Accident Reporting App uses a Smartphone's camera, texting, and email capabilities to capture and share safe work practices, identify safety issues and document safety incidents instantly. The Good Observation feature can be used as a mobile training tool to educate workers about jobsite safety systems. The Near-miss feature can be used to report hazards so that remedial measures can be put into place without delay. The Accident Reporting feature allows users to instantly create and send incident reports so important details don't get overlooked.
Photos can be taken using the Good Observation, Near-Miss or Accident function.
Use the finger-drawing tool to highlight important features of a photo.
Save photos, make notes and email reports to others with the Quick-report feature.
Receive Quick-reports with photos taken by others.
Key in or use the microphone to record observations, comments and suggested actions.
Generate PDF print-ready copies of reports and training certificates that can be signed and printed or scanned and stored electronically.
The tool supports training, hazard recognition, real-time incident reporting, risk management, and process improvement.
The App is designed for the iPhone, iPad and Android devices. Still have questions? Watch a YouTube video showing how to use the Good Observation App.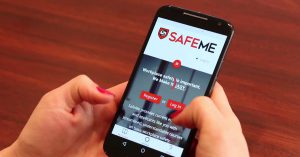 SafeMe APP
Young workers are more likely to be injured on the job than adults. The SafeMe App is designed to help prepare them for the workplace, develop good work habits, and raise their awareness of safety systems.
The App includes safety lessons, videos and hazard identification for a variety of occupations where teens and young workers often find jobs, including retail and restaurant occupations. The App has 10 modules that take about 5 to 8 minutes to complete. For example, there is a module for fire extinguishers with text instructions, pictures and a short video. After each instruction, workers can take a quiz and obtain a certificate for each module they pass. By successfully passing all the modules, workers can earn a Masters Certificate. Certificates can be printed and emailed.
Working youth that have completed the modules demonstrate initiative and achievement. Even older workers have something to gain from the App. They can use the App to brush up on workplace safety basics. The App is available for iPhone and iPad, Android and on the web at www.wrasafeme.org.