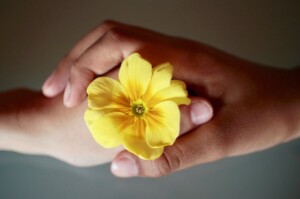 Today marks the 25th World Mental Health Day, an international day of awareness created by the World Federation of Mental Health to educate the public on important issues related to mental health. This year's theme is Mental Health in the Workplace, so we've decided to participate by providing information to employers on their obligations under the ADA and how they can go above and beyond to promote mental health in the workplace.
Managing Employer Obligations
Under the Americans with Disabilities Act (ADA), employers with 15 or more employees are prohibited from discriminating against an employee or job applicant due to their physical or mental disability. This includes an employee or job applicant who currently has a disability, who has previously had a disability, or who is believed to have a disability. The law also protects employees and job applicants from discrimination due to their association with a person who has a physical or mental disability, such as a parent or a spouse.
If your employee makes you aware that their mental health condition is affecting their job performance or ability to perform a "major life activity" (such as concentrating, interacting with others, eating, sleeping, or regulating thoughts or emotions), then you are required to engage in an interactive process with the employee to determine if a reasonable workplace accommodation can be made to allow the employee to fulfill the essential functions of their job. Potential accommodations will vary depending on the employee's needs and the work process that the accommodation is meant to augment, but may include:
Restructuring the employee's position to include only essential functions, if the employee's disability prevents them from performing marginal functions
Making changes to the employee's work environment (such as creating privacy enclosures or allowing the employee to listen to soothing music)
Changing the way important information is presented to the employee (such as providing written as well as verbal instructions or dividing large assignments into smaller tasks)
Allowing the employee to work a flexible schedule or work from home; alternatively, providing an employee with a regular schedule if they find variable hours to be disruptive
Allowing the employee to take additional breaks in order to call a mental health professional or engage in self-care
Allowing the employee to take unpaid leave to obtain treatment or recuperate from an episodic manifestation of their mental health condition
Employers who have not been through this process frequently express concern about the potential cost or difficulty of accommodating an employee with a disability. However, according to an ongoing study by the Job Accommodation Network (JAN), which provides free assistance to employers in identifying and implementing appropriate workplace accommodations, employers reported that 59% of accommodations cost nothing. Only 36% reported a one-time cost of $500 or less.
Employers also reported that providing appropriate accommodations  led to indirect benefits such as improving overall company morale and productivity, as well the direct benefits of retaining a valued employee and avoiding the costs of a new hire.
Promoting Mental Health in the Workplace
Although employers in the U.S. are only legally obligated to refrain from discrimination and to be reactive to the needs of an employee with a mental health condition, the World Health Organization (WHO) urges employers to go beyond mitigating harm and to actively work towards the creation of a healthy workplace for all employees.
According to WHO, "Health is a state of complete physical, mental and social well-being and not merely the absence of disease or infirmity." Creating a healthy workplace includes positive factors, such as taking steps to promote employee engagement and wellness, as well as negative factors, such as mitigating or eliminating elements association with poor mental health.
Work-related stress can contribute to mental health disorders or exacerbate existing mental health conditions, leading to poor work performance, absenteeism, or drug and alcohol use. If key staff or a large number of employees are affected, work stress can affect the health and performance of the entire organization. Sources of work-related stress may include inadequate health and safety policies, poor communication and management practices, unclear tasks or organizational practices, limited participation in decision-making resulting in low employee engagement, and inflexible working hours which result in a poor work-life balance.
One way to reduce work-related stress is to ensure that all employees are provided with clear information about the structure, purpose, and practices of the organization and their own work within it. If employees are encouraged ask questions, communicate issues, and make suggestions, they will be more informed and engaged in the processes of your workplace and their own role in the organization.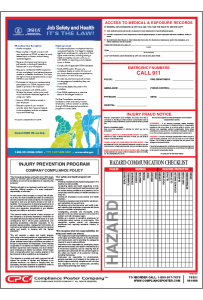 Employers are required to ensure the safety and health of their employees under federal law, but the Occupational Safety and Health Administration (OSHA) recommends that employers take a proactive approach which includes engaging employees in the process of creating a safe and healthy workplace. You can reduce employee stress about workplace safety by assuring employees that health and safety is a core value of your organization and providing education on how to avoid workplace hazards and safety risks. CPC carries a line of informational OSHA posters to assist in training employees on matters such as avoiding Slips, Trips, and Falls (the #1 OSHA violation of the year) and Ergonomics Guidelines to prevent repetitive strain injuries.
An under-recognized source of work-related stress is workplace bullying and psychological harassment. According to a survey conducted by OSHA, 25% of U.S. companies have experienced incidents of workplace bullying. October is National Bullying Prevention Month, so this is the perfect time to develop a policy to prevent workplace bullying and ensure that your organization is prepared to deal with it if it occurs.
CPC provides a Bullying in the Workplace Poster to help employers spread awareness of workplace bullying and its affects. Our revised posters include a space to write in the contact point for employees who wish to report an incident of workplace bullying.
Employers can also promote mental health in the workplace by reassuring their employees that the organization recognizes the contributions of employees with mental health disabilities and is dedicated to helping them succeed. Participating in events like World Mental Health Day or National Disability Employment Awareness Month, which also takes place in October, is one way to let your employees know that your organization is taking steps to eliminate stigma and improve outcomes for workers with mental health conditions.