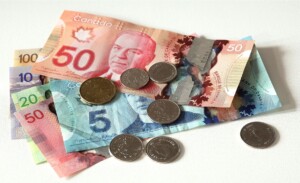 It's been a year of big changes for Alberta employers, but it's finally time to get back to business as usual. Close on the heels of massive revisions to the province's employment standards and occupational health and safety rules, the Alberta minimum wage will come to a final scheduled increase on October 1, 2018.
To assist employers in their compliance with the year's extensive employment law changes, CPC has updated the Alberta All-On-One™ Labour Law Poster and sectioned companion poster to provide information on the October 1 minimum wage increase and the occupational health and safety requirements now in effect.
2018 ALBERTA MINIMUM WAGE
The minimum wage boost is the final step in a series of annual increases that began in 2016.
| | |
| --- | --- |
| Effective Date | General Minimum Wage Rate |
| October 1, 2016 | $12.20 per hour |
| October 1, 2017 | $13.60 per hour |
| October 1, 2018 | $15.00 per hour |
The general minimum wage rate applies to most employees working in Alberta, including adults, youths, and liquor servers. The law allows separate minimum weekly and monthly wage rates for some salespeople and domestic workers.
The Minimum Wage Regulations in Alberta informational notice has been updated with the removal of the previous minimum wage schedule. The notice now provides the general minimum wage rate effective as of October 1, 2018.
ALBERTA OCCUPATIONAL HEALTH AND SAFETY: NEW NOTICE
Soon after approving changes to the Employment Standards Code, most of which took effect in January of 2018, the Legislative Assembly passed a bill to modernize the province's occupational health and safety and workers' compensation systems. Prior to these amendments, the Occupational Health and Safety (OHS) Act had not been updated in 40 years.
CPC's new Alberta Occupational Health and Safety System informational notice describes the expanded work site rights and responsibilities of employers, supervisors, and workers under the revised OHS Act, Code, and Regulation. This notice replaces the outdated Occupational Health and Safety notice.
Under the amended OHS Act, all work site parties (including employers, employees, supervisors, suppliers, service providers, property owners, contractors, self-employed persons, and temporary staffing agencies) have specific obligations to protect the health and safety of workers and the general public from potential hazards associated with the work site. Employer responsibilities in particular have been significantly expanded – most notably, the majority of employers are now required to establish either a work site health and safety committee or a health and safety representative.
The revised OHS Act also establishes three basic rights of workers, which are more fully described on the informational notice:
The right to relevant health and safety information, including the right to know about potential work site hazards;
The right to participate in workplace health and safety initiatives; and
The right to refuse dangerous work.
The Alberta Occupational Health and Safety System notice also provides information on expanded reporting requirements. Under the OHS Act amendments, employers are now  required to report any potentially serious incidents as well as demonstrably serious incidents and injuries. Potentially serious incidents include any incident which could have caused a serious injury, and which involved a hazard that was not identified or not reasonably controlled by existing hazard assessment systems.
The changes described in this notice went into effect on June 1, 2018.
EMPLOYER POSTING REQUIREMENT UPDATES
Several sections of the Alberta companion poster (included free with every Alberta All-On-One™ Labour Law Poster) have also undergone necessary revisions:
Joint Work Site Health and Safety Committee posting section has been revised to indicate that employers are now required to establish a health and safety committee at all work sites where 20 or more workers are employed and work is expected to last 90 days or more. This fill-in section can be used to fulfill the employer requirement to post names of committee members.
Work Site Safety and Health Representative posting section replaces Workplace Policies and Notices

Employers are now required to appoint a health and safety representative at work sites where 5 to 19 workers are employed and work is expected to last 90 days or more. This fill-in section can be used to fulfill the employer requirement to post the name and contact information for the health and safety representative.

Health and Safety Program posting section replaces Emergency Preparedness & Response Plan

Employers with 20 or more workers are now required to have a written health and safety program. The Emergency Preparedness and Response Plan is only one of 10 mandatory components of a compliant health and safety program. Employers may post written or visual components of the program in this space.

Employer's Workplace Violence Procedures posting section has been retitled and revised to include harassment

Every employer is now required to develop a workplace harassment prevention plan as well as a workplace violence prevention plan. Employers may post written or visual components of the plans in this space.
YOUTH EMPLOYMENT UPDATE
Alberta's youth employment standards were revised in concert with the adult employment standards, with changes originally scheduled to go into effect on May 1, 2018. However, supplementary regulations have taken longer than expected to be finalized and as a result, these standards are not yet in effect. The Youth Employment in Alberta posting has been revised to remove the erroneous date.
The Alberta Labour Ministry has proposed a list of light work that workers aged 13 to 14 will be allowed to perform without a permit, but these changes have not yet been finalized.
WHY  POST CANADIAN LABOUR LAW POSTERS?
Canadian provinces usually do not require employers to display general informational notices describing workplace laws and regulations. Instead, employers may be required to post the full text of specified provincial laws and regulations as well as employer-specific policy information.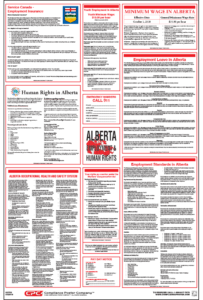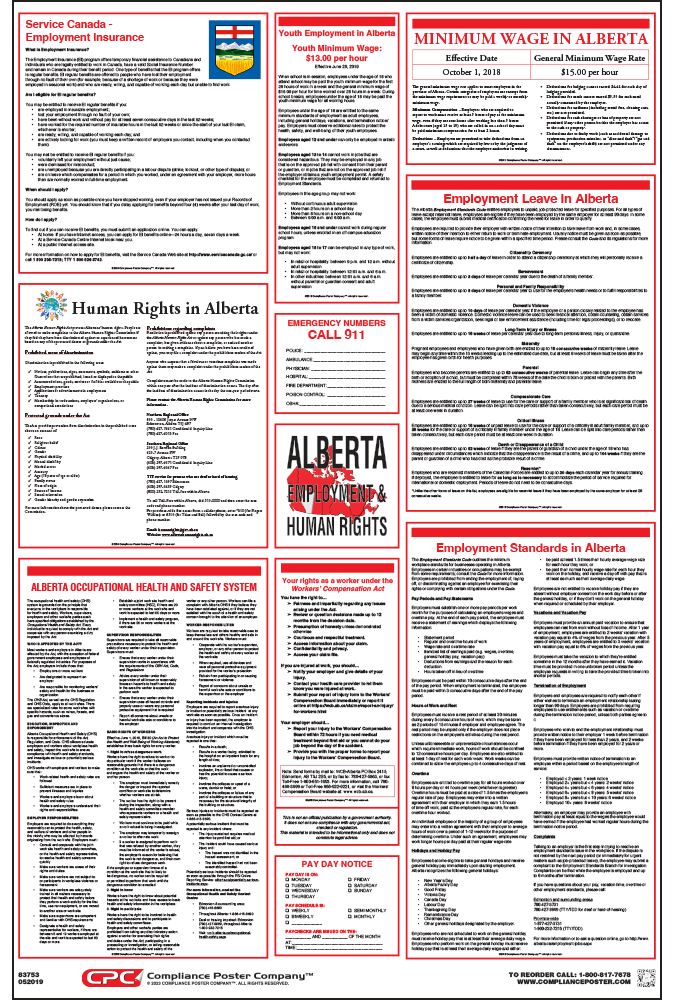 However, many employers prefer to display additional descriptive notices to ensure that employees are informed of their rights and responsibilities without having to wade through pages of legal text. For those employers, CPC has created our unique line of Canadian All-On-One™ Labour Law Posters. Each poster contains informational notices on various aspects of provincial employment law, such as wage and hour requirements, employment leave obligations, prohibited forms of discrimination, and occupational safety and health.
Every Canadian All-On-One™ Labour Law Poster also comes with a sectioned companion poster to assist employers in tracking and fulfilling their posting responsibilities under provincial law. Each section of the companion poster provides a 8.5" x 11" space for posting with a brief description of the mandatory or recommended posting component and a citation of the relevant law or regulation.
The updated 2018 Alberta All-On-One™ Labour Law Poster is now available for order. CPC also provides the Alberta Mobile Poster Pak™ for remote and off-site workers or for use as an easy HR desk reference.
KEEP IN TOUCH WITH CPC!
To keep up with the latest in labor law news and posting compliance, follow us on Facebook, LinkedIn, or Twitter or subscribe to this blog! You can also contact us by phone, email, or chat to order one of CPC's signature labor law compliance products or learn more about your company's individualized posting obligations. 
Please keep in mind that we are unable to provide legal advice.