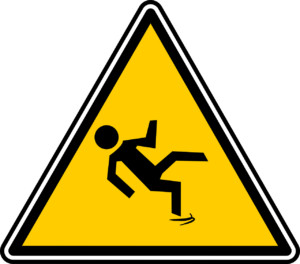 May 6 to May 10 marks OSHA's 2019 National Safety Stand-Down to Prevent Falls in Construction. This now-annual event was initially launched on Workers' Memorial Day in 2012 as a means to address fall protection in the construction industry, but OSHA encourages employers in all industries to participate.
Falls are one of the most common causes of serious work-related injuries and fatalities. While falls are a particular hazard for workers in the construction industry, accounting for roughly 1/3 of 971 construction workplace fatalities recorded in 2017 (Bureau of Labor Statistics), a dangerous fall can occur in any work environment or industry. Falls from elevation, such as a platform or a roof, are especially dangerous,  but slips and trips on a same-level walking surface can also pose a serious risk of injury or death.
The 2019 National Safety Stand-Down Week gives employers the opportunity to highlight the dangers of fall hazards and the importance of fall prevention in the workplace, especially for those in construction or other high-risk industries.
2019 National Safety Stand-Down Week: What Employers Can Do
Under the general duty clause of the Occupational Safety and Health Act, employers are required to provide work and a working environment which are "free from recognized hazards that are causing or are likely to cause death or serious physical harm." Employers must provide training regarding known hazards in the workplace and let employees know how these hazards can be avoided or mitigated.
For 2019 National Safety Stand-Down, OSHA suggests that workplaces stand-down by taking a break – even for  5 or 10 minutes, the length of a Toolbox Talk – for employers to talk directly to their employees about the dangers posed by workplace falls and how they can be prevented. You might use the opportunity to provide more focused training on a hazard that is specific to your workplace or ask employees about fall and other job hazards they are concerned about.
OSHA also has regulations for both construction and general industry relating specifically to the employer's obligation to provide fall protection for employees. Employers must ensure that equipment such as ladders and stairways meet safety requirements and are unlikely to pose a danger to employees, provide guard rails for elevated work environments, and provide any personal protective equipment (PPE) which is needed. Employers must provide fall protection at elevations of four feet in general industry workplaces, five feet in shipyards, six feet in the construction industry, eight feet in longshoring operations, and at any elevation whenever an employee in any industry is working above dangerous machinery.
Along with training, the 2019 National Safety Stand-Down is also the ideal time to review safety procedures and conduct in-house inspections of any working surfaces and equipment which might present a fall hazard. Visit OSHA's 2019 National Safety Stand-Down page for more suggestions on how to participate.
Fall Prevention Posters For Training and Everyday Safety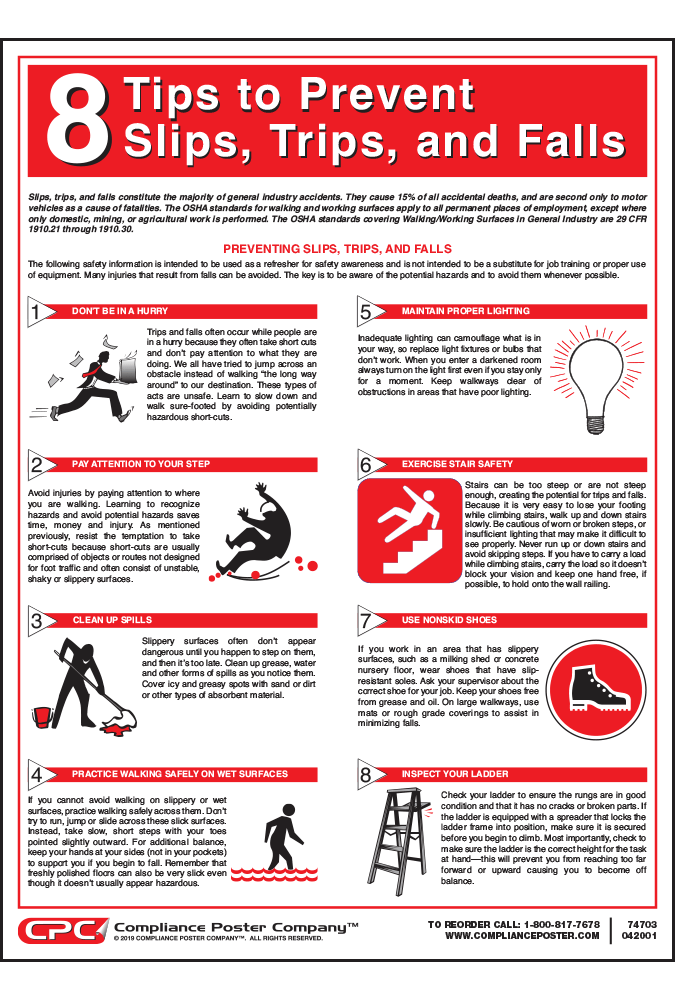 CPC's 8 Tips to Prevent Slips Trips and Falls Poster  ($17.95) is a 19" x 25" full-color Poly Vinyl poster which describes eight basic fall prevention practices that employees should adopt to avoid fall hazards:
Don't be in a hurry
Pay attention to your step
Clean up spills
Practice walking safely on wet surfaces
Maintain proper lighting
Exercise stair safety
Use nonskid shoes
Inspect your ladder
The Slips Trips and Falls poster is available in English and Spanish. It also features illustrations for each step to serve as a visual shorthand for at-a-glance reminders of these essential safety techniques.
Safety posters are an idea visual aid for training exercises, but they're also a year-round reinforcement tool for the lessons learned in workplace safety training. Posting safety posters in the workplace reminds your employees of the essential safety tips you want them to keep in mind and, more importantly, lets employees that their employer considers safety to be essential.
Other Construction Safety Posters Available From CPC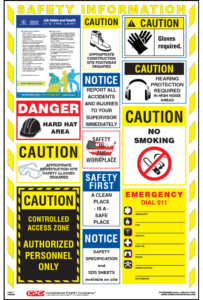 Contact a compliance advisor today to find out which CPC Construction or General Industry Safety Posters are the best fit for your work site.
KEEP IN TOUCH WITH CPC!
To keep up with the latest in labor law news and posting compliance, follow us on Facebook, LinkedIn, or Twitter or subscribe to this blog! You can also contact us by phone, email, or chat to order one of CPC's signature labor law compliance products or learn more about your company's individualized posting obligations. 
Please keep in mind that CPC cannot provide legal advice. If you have a question about how labor law applies to your specific workplace situation, please consult your local labor department or an employment lawyer.