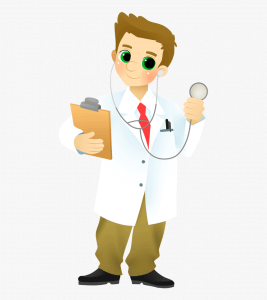 With the New Year rapidly approaching, now is a good time to perform a complete compliance check-up to ensure that you are in full compliance with federal, state and local posting requirements. The easiest way to do this is to make sure you have the most current State & Federal All-On-One™ Poster available.
Smartphone Check-up
One way you can determine whether you have the most current All-On-One Poster is by scanning the QR code located on your All-On-One Poster with your smartphone's camera or QR code reader application. The QR code reader will take you to our website's Latest Revisions page. Simply scroll down the list of states on the web page until you reach the state you wish to verify and compare the listed poster date with the date on your All-On-One Poster. If the dates match, your poster is current and you're good to go.
While you're on the Latest Revisions web page you can also ascertain whether we're expecting an update for your state shortly. Just check the Hold Status column. This column lets you know at a glance if the state All-On-One Poster is current or is on hold for an anticipated update. If the poster is on hold, you can expect a poster update soon. If we have your email address, you'll be notified when the update becomes available. If we don't have your email address, give us a call and we'll gladly add your name to our automatic E-Alert notification system.
CPC's Free Compliance Checklists
Another way to ensure you are in compliance with current posting requirements is by downloading one of our free compliance checklists. Each state-specific checklist identifies the required state and federal postings and lists the revision date on each posting. You can verify that your All-On-One Poster is compliant by comparing the posting revision dates shown on your All-On-One Poster with the posting dates indicated on the state checklist. Checklists also let you know if there are any additional local or industry-specific postings you may need for that location. You can find your state's compliance checklist on our website by expanding the Support tab on the Menu bar and navigating to the Resources folder including the Compliance Checklists or just click here.
If you find that one of your postings is out of date, don't fret! A Peel 'N Post™ update sticker may be all you need to update your All-On-One Poster. Peel 'N Post stickers are made for required posting updates. To see whether an update sticker is available for your location, visit our Peel 'N Post web page and click on the link provided to order the necessary Peel 'N Post sticker. Once you receive the Peel 'N Post, simply affix the sticker over the out-of-date posting on your All-On-One Poster. If a Peel 'N Post update is not available, it means that your state has had more than one major change recently and you need to order a new All-On-One Poster right away. Remember, it's never too late to comply!
Guided Audit
Perhaps you have questions or want more assistance with verification of your All-On-One Posters. We can perform an audit for you. Just snap a picture of your current poster and email it to us. One of our helpful Compliance Advisors can determine from the photo whether your poster is current and suggest the best way to update, if necessary. Alternatively, one of our Compliance Advisors can walk you through an audit over the telephone. If you operate in many locations, having one of our Compliance Advisors perform a poster audit for every location from your order history or the data you provide us can greatly simplify the process and frees up time for you to do other things at this busy time of year.
Takeaway
Given the rapidly changing nature of posting compliance, we want to ensure you have the most up to date posters displayed in the workplace so that your employees are informed of the law and you avoid the possibility of costly fines for non-compliance. Give us a call. We'd be happy to design a solution for you.