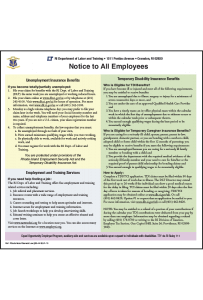 The Rhode Island Department of Labor and Training has recently released an updated Unemployment and Temporary Disability Insurance Benefits posting that includes new information on time limits for filing insurance claims. All employers are required to display the posting in conspicuous places where the workers' services are performed (Employment Security Act, Section 28-44-38; Temporary Disability Insurance Act, Section 28-41-15).
Employees now have 90 days of the first week out of work due to illness to file a temporary disability insurance claim. The Training Director may extend the period up to 26 weeks if the employee can show a good medical reason for delay in filing. Additionally, employees have 30 days after the first day of leave is taken to care for a seriously ill child, spouse, domestic partner, parent, parent-in-law or grandparent or to bond with a newborn child, new adopted child or new foster-care child to file a temporary caregiver insurance claim. Claim application forms can still be obtained online at www.dlt.ri.gov/tdi or by calling the Temporary Disability Insurance Program.
Changes are effective immediately. Employers can comply by posting the updated Rhode Island All-On-OneTM Labor Law poster or by purchasing the exclusive Rhode Island 2017 Unemployment and Temporary Disability Insurance Benefits Peel 'N PostTM.