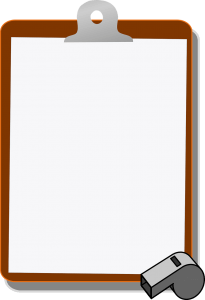 Continuing the trend of modernization we've seen recently from federal agencies, the Occupational Safety and Health Administration (OSHA) has decided to take advantage of the interactivity that the use of online forms makes possible. The agency's online whistleblower complaint form has been revised to ensure that individuals issuing complaints are aware of their rights and that their claims are received by the correct agency.
The Occupational Safety and Health Act requires employers to maintain a safe and healthful workplace for their employees, and also prohibits retaliation against employees for reporting a violation of the law. OSHA's Whistleblower Protection Program enforces whistleblower protections for workers under 22 laws as diverse as the Affordable Care Act, the Federal Railroad Safety Act and, of course, the OSH Act itself.
However, despite its wide range of enforcement areas, OSHA does not handle all whistleblower protection laws. One innovation of the new online whistleblower complaint form is the inclusion of informational boxes describing various agencies, which will pop up when the individual inputs data which indicates that their complaint should be registered with an agency besides OSHA.
Deputy Assistant Secretary of Labor for Occupational Safety and Health Loren Sweatt said of the addition, "Workers who report unsafe conditions and wrongdoing have a range of legal protections from retaliation. The revised online complaint form works to ensure whistleblowers file their complaints with the appropriate federal agency for prompt action."
The sequence of questions has also been changed up in a move which the agency believes will guide individuals through the process more easily. Essential questions such as "Have you suffered an adverse action?" and "Why do you believe you suffered the adverse action?" have been relocated to the front of the question sequence in order to assist complainants in understanding their rights under the relevant law. A valid whistleblower complaint must contain four elements:
The employee engaged in protected activity, such as reporting a violation of the law;
The employer knew or suspected that the employee engaged in the protected activity;
The employer took an adverse action against the employee; and
The employee's protected activity motivated or contributed to the adverse action.
Adverse action may be covert or overt, and may take the form of denying overtime, promotion, or benefits; reducing pay or hours; reassignment which affects pay or promotion; demotion, blacklisting, firing, or laying off; or harassment and intimidation.
Employees who wish to file a whistleblower complaint may do so by fax, mail, phone, or using the new online complaint form available in both English and Spanish here. Complaints cannot be submitted anonymously, and must include full and current contact information in order for OSHA to begin investigation.