Starting August 1, a new law in Minnesota makes it illegal for individuals to intentionally misrepresent an animal as a service animal in order to access the rights or privileges available to a person who qualifies for a service animal under state or federal law. Businesses which are required to allow individuals with disabilities to be accompanied by a  service dog can post the Minnesota Service Animal Sign in order to inform the public of the new law and express their intent to enforce it.
The new law represents a step forward for business owners who wish to ensure that untrained or unwanted animals are restricted from their business, as well as for people with disabilities who want to ensure the public safety and performance of their service animals. However, employers will need to ensure that their staff are well-trained in their obligations not to discriminate against people with disabilities that qualify them to be accompanied by a service dog.
Minnesota Service Animal Sign for Public Accommodations

The new law allows places of public accommodation (such as retail stores, restaurants, hotels, and any other business that provides goods or services to the public) to post a sign in a location accessible to the public stating that service animals are welcome but misrepresenting an animal as a service animal is illegal.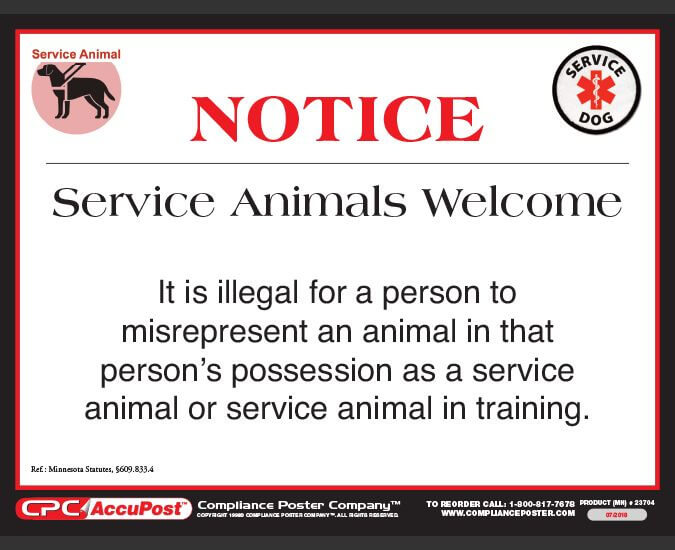 CPC provides the Minnesota Service Animal Sign in an 11″ x 8.5″ full-color format for $9.95. CPC posters are Poly Vinyl front and back to provide protection against marking or tearing.
The Minnesota Service Animal Sign is not required, but can be posted voluntarily to indicate that the business fully complies with state and federal law by permitting valid service animals, but will not tolerate persons breaking state law by misrepresenting an animal as a service animal.
State and Federal Requirements for Service Animals
The federal Americans with Disabilities Act (ADA) requires businesses, nonprofit organizations, and state and local governments which serve the public  to allow a person with a disability to be accompanied by their service dog in all areas of the facility where the public is normally allowed to go. A "service animal" is defined in ADA regulations as a dog that is individually trained to do work or perform specific tasks for the benefit of an individual with a physical, sensory, psychiatric, intellectual, or other mental disability.
The tasks must be directly related to the individual's disability, such as guiding individuals who are blind, alerting individuals who are deaf to the presence of people or to sounds, or providing support for individuals with mobility issues. Emotional support animals, which may provide psychiatric or emotional benefits but are not trained to perform a specific task, do not qualify as service animals under the ADA.
Under the Minnesota Human Rights Act, it is "an unfair discriminatory practice" for the owner, operator, or manager of any public place to prohibit a person with physical or sensory disabilities from taking a properly harnessed or leashed service or assistance animal into the public place. The law specifies that a person cannot be charged an extra fee or charge due to the presence of their service animal.
What Else Do Businesses Need to Know?
Employers should ensure that their staff members do not violate the rights of individuals with disabilities when determining whether a customer or client is misrepresenting an animal as a service animal. If it is not immediately obvious what service the animal provides, business owners or their employees can ask two questions:
 Is the dog a service animal required due to a disability?
What specific work has the dog been trained to perform?
Business owners or their employees cannot:
Ask about the person's disability, including asking what disability the person has or about the severity of the disability.
Require the person to provide medical documentation of their disability.
Require the person to provide proof of the service dog's training, such as a special identification card or training documentation – service animals are not required to pass a test or complete a certification program in order to be considered qualified service animals.
Require the dog to demonstrate its ability to perform the work or task – remember, some service animals perform tasks which are triggered by an external or medical event, such as alerting a person with epilepsy that they are are likely to have a seizure or responding to the physical symptoms of their owners' psychological condition.
Businesses can ask a person to remove a service dog from the premises if the dog is out of control and the owner does not take effective action to control it, or if the dog is not  housebroken. Service dogs are also generally required to be kept on a harness or leash, but in some cases the person's disability or the task performed by the dog may prevent such a device from being used. In those cases the person must maintain control of the animal with voice, signal, or another effective method.
The new state law empowers the Minnesota Council of Disability to create a brochure "detailing permissible questions a business owner may ask to determine whether an animal is a service animal, proper answers to those questions, and guidelines defining unacceptable behavior." Although the Council has not yet released this brochure, business owners can review guidance from the federal Civil Rights Division and the Minnesota Human Rights Commission.
KEEP IN TOUCH WITH CPC!
To keep up with the latest in federal, state, and local labor law news and posting compliance, follow us on Facebook, LinkedIn, or Twitter or subscribe to this blog! You can also contact us by phone, via email, or by chat to order one of CPC's signature labor law compliance products or learn more about posting obligations. 
Please keep in mind that we are unable to provide legal advice.