It may seem like it was only yesterday that employers were required to update Nevada employment posters (time flies: it was actually two months ago), but it's that time again: Nevada has updated the mandatory Rules To Be Observed By Employers notice to employees with information about overtime exemption requirements for domestic workers.
Nevada passed the Domestic Workers Bill of Rights during their jam-packed 2017 legislative session – the same session which saw the passage of the Pregnant Workers Fairness Act, the Nursing Mothers Accommodation Act, and leave rights for victims of domestic violence. The Domestic Workers Bill of Rights established basic wage and hour, privacy, and notification rights for workers who provide services for an employer's household, such as housecleaning, chauffeuring, gardening, and care-taking services.
The law went into effect on January 1, 2018, but the Nevada Department of Labor and Industry did not update the Rules To Be Observed By Employers notice until August. Although this change only applies to employers of domestic workers, the Rules To Be Observed By Employers notice is a mandatory employment posting for all Nevada employers. Employers must post the current version in order to remain in compliance.
Rules To Be Observed By Employers Notice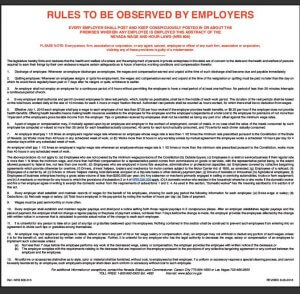 Nevada law requires every employer to post a printed abstract of state wage and hours laws provided by the Labor Commissioner on the premises where any person is employed (NRS 608.013). The Nevada Department of Labor and Industry publishes the Rules To Be Observed By Employers notice to fulfill this posting requirement. The notice describes the state requirements surrounding mandatory rest and periods, the payment of wages during regular employment and upon separation, and the minimum wage and overtime provisions of the law.
Employers are required to pay certain employees time-and-a-half for hours worked over 40 in a workweek or 8 hours in a workday. Some categories of employee are exempt from these overtime requirements, including employees who receive more than half of their compensation from commissions; employees who work in a bona fide executive, administrative, or professional capacity; and certain employees involved in transportation, such as railroad employees and taxi drivers.
The Nevada Domestic Workers Bill of Rights adds a new category to this list: a domestic worker does not have to be paid overtime if he or she resides in the household where he or she works and has a written agreement with the employer to be exempted from the overtime requirements. Before the new law, domestic workers were not subject to minimum wage or overtime requirements.
The Rules To Be Observed By Employers notice has been updated to reflect this new overtime exempt category, and the revision date has been updated to 8-03-2018. Prior to this update, the notice was last revised in 2016.
Maintain Your Compliance: Update Mandatory Labor Law Posters Now
If you already own one of Compliance Poster Company's signature products, you can update your Nevada Rules To be Observed By Employers notice with the  2018 Nevada Rules To Be Observed Peel 'N Post™ sticker for only $9.95. The cost-effective alternative to poster subscription services, Peel 'N Post update stickers are quick and easy to use – simply peel off the backing and post the sticker over the outdated notice.
If you're looking for a complete compliance solution, order an up-to-date Nevada All-On-One™ Labor Law Poster, consolidating all state and federal required postings onto one convenient and attractive wall poster, or a Nevada Mobile Poster Pak™ booklet for mobile and off-site workers.
KEEP IN TOUCH WITH CPC!
To keep up with the latest in labor law news and posting compliance, follow us on Facebook, LinkedIn, or Twitter or subscribe to this blog! You can also contact us by phone, email, or chat to order one of CPC's signature labor law compliance products or learn more about your company's individualized posting obligations. 
Please keep in mind that we are unable to provide legal advice.