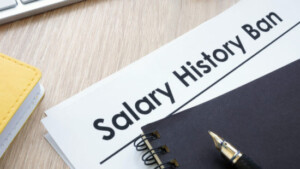 This January, New Jersey will join a growing number of states that prohibit employers from inquiring about workers' compensation and salary experience. The new law (AB 1094) will prohibit employers from directly asking job applicants about their salary history, searching publicly available records for an applicant's salary history, or using salary history disclosed during a background check in determining what to pay an applicant.
The law makes it unlawful for an employer:
to screen a job applicant based on the applicant's salary history, including, but not limited to, the applicant's prior wages, salaries or benefits; or
to require that the applicant's salary history satisfy any minimum or maximum criteria.
An employer may consider salary history in determining salary, benefits, and other compensation for the applicant, and may verify the applicant's salary history, if an applicant voluntarily provides the employer with salary history. An employer may also request that an applicant provide a written authorization to confirm salary history, including, but not limited to, the applicant's compensation and benefits, after an offer of employment has been made.
The law, however, does not apply to:
applications for internal transfer or promotion, or the employer's use of previous knowledge obtained as a consequence of prior employment with the employer;
any actions taken by an employer pursuant to any federal law or regulation that expressly requires the disclosure or verification of salary history for employment purposes, or requires knowledge of salary history to determine an employee's compensation;
background checks seeking non-salary-related information, provided employers specifically state that salary history information is not disclosed, and provided that, if the employer nevertheless receives salary history information, the employer discards and does not consider it;
salary history information that is publicly available; however, an employer may not retain or consider that information when determining the compensation package to be offered to the applicant;
salary history information acquired from an employment agency if the applicant has provided the agency with written authorization to share that information with the employer; and
inquiries regarding an applicant's experience with incentive and commission plans and the terms and conditions of the plans, provided the position includes incentives or commissions as a component of compensation, and provided the employer does not ask about prior incentive or commission earnings.
An employer that violates these provisions will be liable for a civil penalty in an amount not to exceed $1,000 for the first violation, $5,000 for the second violation, and $10,000 for each subsequent violation.
Employers doing business in multiple states may include an inquiry regarding salary history on the employment application, so long as the application states that applicants who will be working in the state of New Jersey should not answer the question. Employers should ensure that job applications and interview processes are in compliance with the New Jersey salary history ban before January 1, 2020.