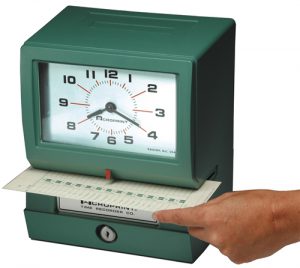 Rounding Practices
Frequently, employers' timekeeping practices include "rounding policies" and "grace periods". These policies permit employees' clock-in time to be adjusted around start and stopping work times for administrative purposes. If an employer has a quarter-hour "rounding policy," employee time is rounded to the nearest quarter hour.  Therefore, an employee who clocks in at 8:07 AM would see his wage statement reflect a clock-in time of 8:00 AM, whereas a clock-in time of 8:08 AM would be rounded to 8:15 AM. Likewise, an employer may have a "grace period" that excludes the time an employee is clocked-in either ten minutes before or after the employee's scheduled shift.
Rounding Rules
The regulations that implement the Federal Fair Labor Standards Act ("FLSA") allow an employer to "round" employees' clock-in and clock-out times to the nearest 5 minutes, or to the nearest one-tenth or quarter of an hour. (29 CFR § 785.48(b)). Under the federal standard, time rounding is permitted as long as the adjustments do not result, over a period of time, in the underpayment of wages to the employee. The same rounding rule applies in California. California courts have explained that: (1) any rounding must be "fair and neutral," meaning that time must be rounded up as well as down; and (2) as applied, the policy must not result in a failure to compensate employees fully over time. (See's Candy Shops, Inc. v. Superior Court).
Application
In practice, the amount of time employees may gain or lose from a rounding policy may fluctuate from day to day. This means that an employee's actual "time worked" may not equal the "time paid" every pay period. On this point, the courts have said that rounding rules do not require every employee to "break even" every pay period. Nor do rounding rules require employers to engage in a "mini actuarial process" each time they run payroll. (Corbin v. Time Warner). Instead, rounding policies are meant to average out in the long-term to the employees collectively. Consequently, an employer is not required to verify every pay period that the rounding policy benefitted every employee. On the other hand, it is unlikely that a court would allow an employer to cherry-pick the period of time to show that the employer's rounding policy was fairly applied.
California employers should consider periodically auditing rounded time records and actual time entries to ensure that over time the rounding policy does not "short" employees. As for shift-beginning and ending "grace periods", the system is still to be fully explored by a California court. That said, employers should exercise the same caution with grace periods as they do with rounding policies.