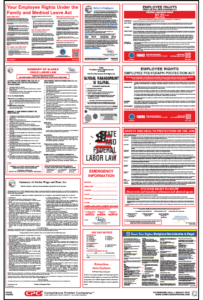 It's that time again! Alaska minimum wage employees will receive an increase in their pay starting January 1st. Every year, Alaska adjusts its minimum wage rate based on the increase in the Consumer Price Index (CPI). CPI is a measure of the average change in prices of goods and services purchased by households over time. On January 1, 2019, the state's minimum wage will increase from $9.84 per hour to $9.89 per hour. The Summary of Alaska Wage and Hour Act posting has been updated to reflect the new 2019 minimum wage rate. All employers covered by any of the provisions of the Alaska Wage and Hour Act (A.S. 23.10.050, et seq.) must display the Summary of Alaska Wage and Hour Act posting in the workplace.
The Alaska Division of Labor Standards and Safety has also updated the mandatory Safety and Health Protection on the Job posting (A.S. 18.60.068). The update is a result of a Final Rule issued by the Occupational Safety and Health Administration (OSHA) in 2016. OSHA began adjusting its penalties for inflation in 2017. Under the Final Rule, state-plan states like Alaska had to adopt requirements that are substantially identical to the Final Rule. As a result, Alaska passed House Bill 121 earlier this year to allow Alaska Occupational Safety and Health to come into compliance with the federal requirement. Effective October 20, 2018, the following maximum and minimum civil penalties will apply to employers who violate Alaska's occupational safety and health standards:
| | |
| --- | --- |
| Citation Type | New Penalty |
| Willful | Minimum $9,239 per violation; Maximum $129,336 per violation |
| Repeat | Maximum $129,336 per violation |
| Serious | Maximum $12,934 per violation |
| Other than serious | Maximum $12,934 per violation |
| Failure to correct | Maximum $12,934 for each day the condition continues |
| Violation of posting requirements | Maximum $12,934 per violation |
Employers can comply with their posting requirements by obtaining the updated Alaska All-On-OneTM Poster. To purchase the labor law poster, visit us online at www.complianceposter.com or give us a call at 1-800-817-7678.