The federal  Equal Employment Opportunity Commission (EEOC) has announced that it will delay the filing deadline for the submission of the EEO-1 survey. Companies which are required to submit EEO-1 data usually receive a postcard with log-in information in early January, but a record-setting shutdown which shuttered "non-essential" government functions starting in December of 2018 did not end until January 25, 2019.
EEOC has not yet determined the opening date for data submission, but the filing deadline for 2018 data has been extended from March 31 to May 31, 2019.
What Do Employers Need to Know About the EEO-1 Survey?
The annual EEO-1 survey collects employment data from private employers for a representative pay period of the previous year, categorized by race/ethnicity, gender, and job category. EEOC and the Office of Federal Contract Compliance Programs (OFCCP) use this data as a source of information about women and racial minorities, including their representation in the workforce, including their distribution within specific companies, industries, and geographic regions. (Click here to see EEOC Special Reports based on EEO-1 and other data.)
Information from the EEO-1 also helps the agencies identify patterns of potentially discriminatory practices and set civil rights enforcement priorities. EEOC is responsible for enforcing Title VII of the Civil Rights Act of 1964, which prohibits employment discrimination on the basis of factors such as race, sex, age, disability, and religion.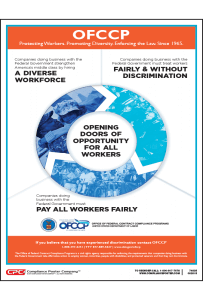 OFCCP enforces requirements on federal contractors, including Executive Order 11246, which prohibits employment discrimination on the basis of factors such as race, sex, sexual orientation, and gender identity. EO 11246 also requires federal contractors to take affirmative action to ensure that equal opportunity is provided in all aspects of employment.
EEO-1 survey compliance is required from the following employers:
Private companies which employ 100 or more employees.
Private companies which are owned or corporately affiliated with another company, of which the entire enterprise employs 100 or more employees.
Federal contractors which employ 50 or more employees and are operating under a prime contractor or first-tier contract amounting to $50,000 or more.
EEOC has not yet released a specific opening date for data submission beyond "early March", so covered employers should monitor the EEO-1 Survey webpage for ongoing updates about when and how to file.
KEEP IN TOUCH WITH CPC!
To keep up with the latest in labor law news and posting compliance, follow us on Facebook, LinkedIn, or Twitter or subscribe to this blog! You can also contact us by phone, email, or chat to order one of CPC's signature labor law compliance products or learn more about your company's individualized posting obligations. 
Please keep in mind that CPC cannot provide legal advice. If you have a question about how labor law applies to your specific workplace situation, please consult your local labor department or an employment lawyer.