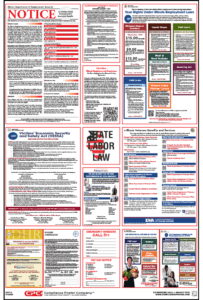 This summer, the Illinois Department of Labor (IDOL) has made it a priority to ensure that employers are aware of and are complying with workplace posting responsibilities. In a July 23, 2020 press release, the IDOL emphasized that Illinois employers "must provide important health, safety and labor law information with required posters." The press release reminds employers that "workers have specific rights aimed at protecting them physically and financially while on the job and providing for a safe and healthy work environment. To help ensure they know those rights, employers are required to prominently post Illinois Department of Labor-approved posters at their workplaces."
The IDOL also released two required labor law posting updates:
Your Rights Under Illinois Employment Laws
Victims' Economic Security and Safety Act (VESSA)
Your Rights Under Illinois Employment Laws
Your Rights Under Illinois Employment Laws summarizes the state's minimum wage and employment laws. The posting has been revised to feature the minimum wage rate that went into effect on July 1, 2020. The minimum wage rate is $10.00 per hour. It is the second minimum wage increase this year.
This year's minimum wage rate increases are the result of legislation passed in 2019 establishing a series of minimum wage increases to take place over a period of five years. The minimum wage will next increase to $11.00 per hour on January 1, 2021. The last increase is set for January 1, 2025, when the minimum wage rate will reach $15.00 per hour.
Every employer subject to Illinois Labor Laws must post Your Rights Under Illinois Employment Laws in a conspicuous and accessible place on the premises wherever any covered employee is employed. (820 ILCS 105/9, 115/10, 112/40, 205/6).
Victims' Economic Security and Safety Act (VESSA)
The second posting requirement that has changed concerns the release of the new VESSA posting. The VESSA Act allows employees who are victims of domestic violence, sexual violence or gender violence, or who have family members who are victims of domestic violence, to take leave to:
seek medical attention for injuries related to domestic violence
obtain counseling or services from a victim's services organization
participate in safety planning or take other actions to protect their safety
obtain legal assistance or participate in court proceedings related to domestic violence.
The amount of leave permitted is based on the number of employees:
1-14 employees – 4 weeks
15-49 employees – 8 weeks
50+ employees – 12 weeks
The Act prohibits employers from discriminating or retaliating against employees for taking leave or exercising other rights under the Act. Employees are required to provide employers with 48 hours' notice before the leave and employers may require certification from a qualified provider that leave is required to address domestic violence.
The law requires all Illinois employers to post and keep posted, in conspicuous places on the premises of the employer where notices to employees are customarily posted, the IDOL's VESSA notice. (820 ILCS 180/40).
Posting Compliance
Every Illinois employer that has not already done so, should ensure that current versions of these postings are displayed in the workplace. Compliance Poster Company's Illinois All-On-One Labor Law Poster™ is fully updated and includes all Illinois labor law posting requirements.