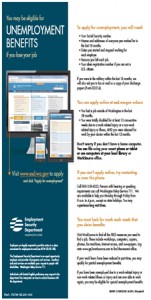 Washington Unemployment Benefits
Washington State requires employers responsible for unemployment insurance coverage of their employees to post the mandatory Unemployment Benefits poster. The notice has several important changes that affect applicant eligibility and application procedures. This includes:
Applicants must be able to provide employer history for the last 18 months
Applicants that were in the military within the last 18 months must provide discharge papers
Applicants can apply online unless they had a job outside the state in the last 18 months
New claim center telephone hours and relay service number
There are no in-person unemployment offices in Washington State. The fastest way to apply for benefits is online, unless a worker is required to file by phone. Washington has also introduced filing for benefits by smart phone or tablet. Applicants can also file a claim for benefits by home computer or by using a computer available at a local library or WorkSource office, which feature a full complement of employment resources for displaced employees.
Click on the image to order the required Washington State Unemployment Benefits Peel 'N Post or here for the updated Washington State All-On-One Labor Law poster.