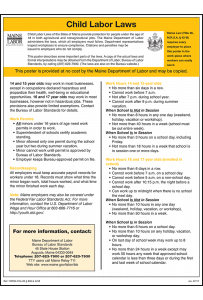 On July 9, 2017 Maine Governor Paul LePage signed LD 1564 into law. The bill, which passed as an emergency measure and went into effect immediately upon signing, amends the state's child labor laws to allow 14- and 15-year-olds to work in a broader range of businesses and occupations.
Previously, minors in this age group were forbidden from working in bowling alleys, movie theaters, and permanent amusement parks; these prohibitions have been repealed. For some businesses, such as hotels and bakeries, certain restrictions have been lifted although protections remain in place. For example, 15-year-olds were previously allowed to work in hotel dining rooms, kitchens, lobbies, and offices, but forbidden from performing any work within the rooms. Under the new law, 14- and 15-year-olds can perform housekeeping work so long as they are under the supervision of an adult, but are still expressly prohibited from performing room service and making deliveries to guest rooms.
The legislation has been a priority for Governor LePage for several years, but the recent labor shortage has made it a more attractive prospect for lawmakers. In a statement, Governor LePage said, "There is no better preparation for the responsibilities of adulthood than working when you are a teenager. There is more we can do, so we must continue to help young people gain the experience, skills, and knowledge about their own career interests that can only come from holding a job."
Commissioner of Labor John Butera assured employers that the Department of Labor will do its best to move newly approved workers from job offer to on-the-job: "Maine's employers need these workers to help in this tight labor market, and we've seen a surge in permits this year. Our team is working hard to turn around approved permits as soon as possible."
In an equally quick turnaround, the Maine Department of Labor has updated its Child Labor Law posting to reflect these new changes. The updated posting has been revised to specify that 14- and 15-year-olds are able to work in most occupations, so long as the position is not hazardous and will not jeopardize the minor's health, well-being, or educational opportunities. The heading has also been edited to specify that Maine's Child Labor Laws regulate agricultural, as well as non-agricultural, work.
The textual design has also been revised to place information about work hours for 14- and 15-year-olds and information about work hours for 16- and 17-year-olds on the same column. Prior to this 07/17 update, the Child Labor Law posting was last updated in 2014.
Only employers subject to Maine's child labor laws are required to post the Child Labor Law posting.
If you already own one of Compliance Poster Company's signature products, you can update your Child Labor Law posting with this cost-effective 2017 Maine Child Labor Law Peel 'N Post™ sticker in English or Spanish. Or, if you're looking for a complete compliance solution, order an up-to-date Maine All-On-One™ Poster, consolidating all state and federal required postings onto one convenient and attractive wall poster, or a Mobile Poster Pak™ booklet for mobile and off-site workers.
Don't forget to follow us on Facebook and Twitter, or subscribe directly to this blog, to keep up with posting compliance and labor law news!