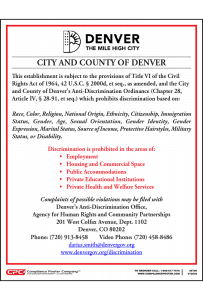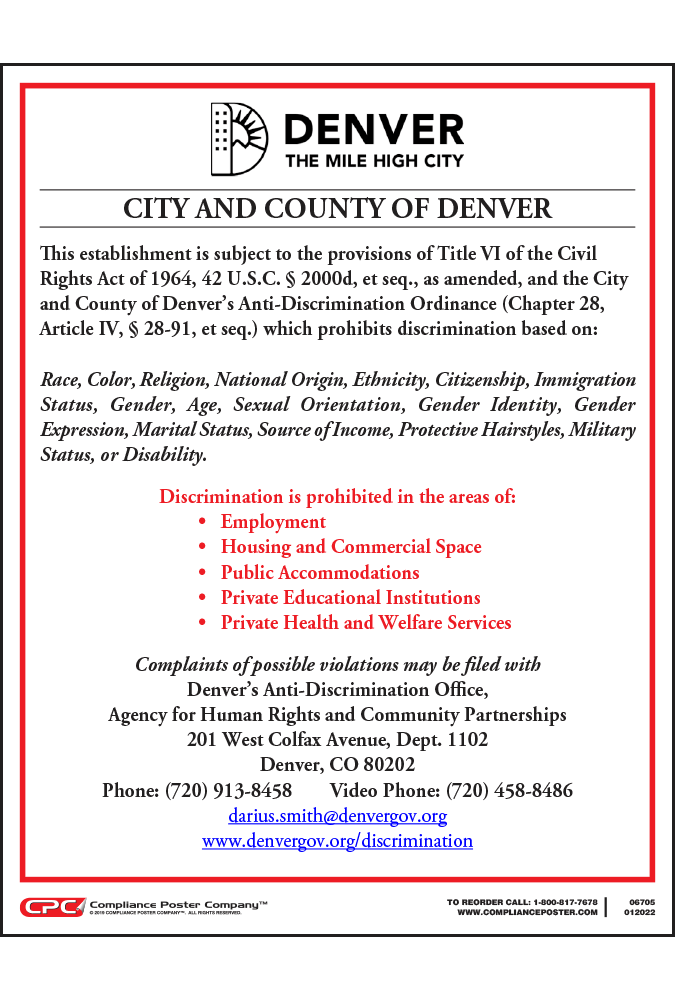 The Denver Anti-Discrimination Office (DADO) has revised the City and County of Denver Anti-Discrimination Poster with information about employer obligations to obey federal as well as municipal law, and additional details on DADO's role in enforcing the law. This represents the first change to this poster since it was created a decade ago.
Colorado employers and businesses which operate within the City and County of Denver should update posters now to ensure employees and the public are aware of their rights under the law.
What's Changed?
One major addition to the poster is the reminder that the posted establishment is subject to the provisions of Title VII of the Civil Rights Act of 1964, as well as the Denver Anti-Discrimination Ordinance. Title VII is the section of the federal civil rights law which governs employment actions. Under the Act, employers are prohibited from discriminating against a job applicant or employee in hiring, firing, or the terms and conditions of employment, or from depriving an employee or job applicant of employment opportunities, because of the individual's race, color, religion, sex, or national origin. (Title VII obligations are further described on the "EEO is the Law" EEOC Poster.)
The Denver Anti-Discrimination Ordinance is more expansive in its protections than Title VII. Other federal laws prohibit employment discrimination on the basis of age (for employees and applicants over the age of 40), physical or mental disability, and military status, which Denver's ordinance also forbids. However, Denver additionally prohibits marital status (which encompasses the state of being married, single, divorced, separated, widowed, and associated conditions including parenthood), sexual orientation (which is also protected under Colorado law), and gender variance, defined within the ordinance as:
A persistent sense that a person's gender identity is incongruent with the person's biological sex, excluding the element of persistence for persons under age twenty-one and including, without limitation, transitioned transsexuals.
The Denver ordinance also protects "gender," which is associated with a person's experience of their own identity, rather than "sex," which is associated with biological characteristics. The poster lists the protected classes under the ordinance and the areas of public life – including employment, public accommodations, education, and health and welfare – which are covered by the ordinance.
The updated City and County of Denver Anti-Discrimination Poster also includes a new section at the bottom of the poster which describes DADO's role in enforcing the ordinance and its responsibility to investigate complaints of alleged discrimination and, if the complaint is determined to be within DADO's jurisdiction, to commence a neutral, unbiased settlement between parties.
This section of the notice also encourages individuals to visit DADO's website to get answers to frequently asked questions, download forms, schedule an intake, or request a presentation. The contact information for DADO has also been updated, including a new Video Phone number that replaces the previous TTY (teletypewriter) number for individuals who are deaf or hard of hearing.
Who Must Post?
The City and County of Denver Anti-Discrimination Poster is a mandatory posting for  places of public accommodation, real estate brokers, rental complexes with more than 5 units, private educational institutions, private health and welfare service firms, employment agencies, and private employers with 20 or more employees which operate within the boundaries of the City and County of Denver. It must be posted in a conspicuous location where business or activity is customarily conducted or negotiated.
CPC supplies the City and County of Denver Anti-Discrimination Poster as a full-color 8.5 x 11" Poly Vinyl poster, available in English or Spanish. We have also recently created a bilingual City and County of Denver Anti-Discrimination Add-On for Mobile Poster Paks. Add-Ons are individual pages or packets which are bound into a Mobile Poster Pak when ordered together.
KEEP IN TOUCH WITH CPC!
To keep up with the latest in labor law news and posting compliance, follow us on Facebook, LinkedIn, or Twitter or subscribe to this blog! You can also contact us by phone, email, or chat to order one of CPC's signature labor law compliance products or learn more about your company's individualized posting obligations. 
Please keep in mind that we are unable to provide legal advice.