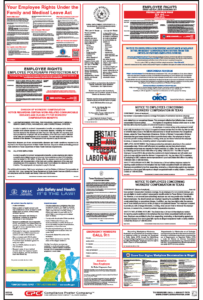 All Texas employers participating in the workers' compensation system must post notice of the Office of Injured Employee Counsel (OIEC) Ombudsman Program. The notice must be displayed in the personnel office, if the employer has a personnel office, and in the workplace where each employee is likely to see the notice on a regular basis. The notice must be displayed in English, Spanish, and any other language that is common to the employer's employees. OIEC is a state agency that can assist injured employees with their workers' compensation claims. OIEC ombudsmen help employees:
communicate with the employer, insurance carrier, and doctor;
gather information and documentation to try to resolve the dispute in the claim;
provide information that may help make decisions;
gather information about the Division of Workers' Compensation (DWC) hearings process; and
prepare for proceedings.
The OIEC Ombudsman Program notice has recently been updated with a new logo, color scheme, and posting date. The OIEC is also requiring the notice to be printed with a title in at least 15 point bold type and text in at least 14 point normal type.
CPC has updated the Texas All-On-OneTM Labor Law Poster with the revised OIEC Ombudsman Program notice. For customers with the current Texas All-On-OneTM Labor Law Poster or Mobile Poster Pak, CPC is offering the Texas OIEC Ombudsman Program Peel 'N PostTM that meets the new size requirements.