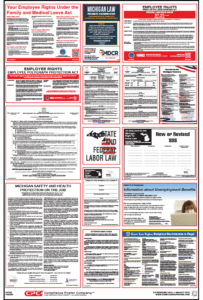 During the 2019 legislative session, Governor Whitmer signed Executive Order 3 to re-organize the state government for a more efficient administration. The Order created the Department of Labor and Economic Opportunity, and renamed the Department of Talent and Economic Development to Department of Labor and Economic Opportunity. The Order also abolished the Michigan Talent Investment Agency and Workforce Development Agency.
To reflect these new changes in the government, the following mandatory posters were revised with the new corresponding agency names:
Information About Unemployment Benefits
Minimum Wage and Overtime
Paid Medical Leave Act
Michigan Safety and Health Protection on the Job
This Workplace covered by the Michigan Right to Know Law
New or Revised SDS
Youth Employment Standards Act
Additional Changes 
In addition to the new agency overlooking the unemployment insurance law, the revised Information About Unemployment poster also reflects a new filing process for unemployment benefits. Employees can apply for benefits through the Michigan Web Account Manager, which is available 24 hours a day, 7 days a week. Previously, employees had the option to file a claim by phone. The claim begins the week it was filed.
Furthermore, the Minimum Wage and Overtime, Paid Medical Leave Act, and Youth Employment Standards Act posters include the name of the new Department of Labor and Economic Opportunity Director, Jeff Donofrio.
Michigan employers can stay compliant by purchasing the updated Michigan All-On-OneTM Labor Law Poster, or by calling our Compliance Advisors at 1-888-495-9847. Order today!