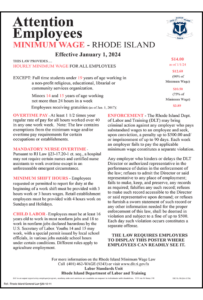 The Rhode Island Department of Labor and Training has revised its minimum wage notice to reflect the new minimum wage rate effective January 1, 2018. Employers subject to any provisions of the Rhode Island Minimum Wage Law must display the updated Minimum Wage notice in an area accessible to employees.
The minimum wage increase comes after Governor Raimondo signed the FY 2018 budget into law earlier this year. Under the law, employers are required to pay their minimum wage employees $10.10 per hour starting January 1, 2018. Then in 2019, employers will be required, once again, to increase the rate to $10.50 per hour.
CPC has updated the Rhode Island All-On-OneTM Labor Law Poster and has created the Rhode Island 2018 Minimum Wage Peel 'N PostTM for employers with an existing Rhode Island All-On-OneTM Labor Law Poster.