On January 1, 2019, 20 states, including Colorado, will raise the hourly pay rate for minimum wage workers. Employers are required to pay employees at least the new minimum wage rate and post a notice in the workplace to inform employees of their right to the minimum wage. At the tail end of 2018, Colorado Department of Labor has released the 2019 Colorado Minimum Wage Order No. 35 to allow employers to comply with these requirements.
WHAT DO EMPLOYERS NEED TO KNOW ABOUT THE 2019 COLORADO MINIMUM WAGE?
Colorado voters passed Amendment 70 in November of 2016. The law set up a series of scheduled increases to the minimum wage that began in January of 2017. Colorado will incrementally raise the state minimum wage to $12.00 per hour by 2020, after which it will rise relative to changes to the Consumer Price Index (CPI), which measures cost of living in the U.S.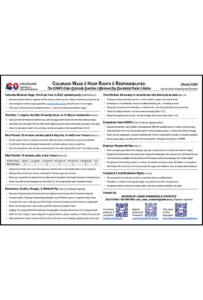 Effective January 1, 2019, the minimum wage will increase to $11.10 per hour for non-tipped workers in the state of Colorado. The maximum allowable tip credit is always set at $3.02, so the minimum wage for tipped workers increase to $8.08 per hour.
The Colorado Minimum Wage Order covers employers and employees in the following industries: Retail and Service, Commercial Support Service, Food and Beverage, and Health and Medical. Every employer subject to the wage order is required to display the 2019 Colorado Minimum Wage Poster in an area frequented by employees where it can be easily read during the work day. (7 CCR 1103-1.21)
The 2018 Colorado Minimum Wage Order No. 34  should remain posted until December 31, 2018 and be replaced by the 2019 Colorado Minimum Wage Order No. 35 on January 1.
GET THE 2019 COLORADO MINIMUM WAGE ORDER POSTER NOW!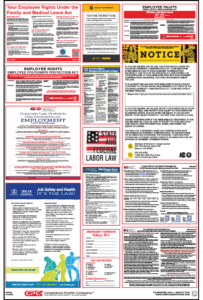 If you already own one of Compliance Poster Company's signature products, you can update your mandatory Colorado Minimum Wage notice with the 2019 Colorado Minimum Wage Order Peel 'N Post™ sticker for only $9.95.
The cost-effective alternative to poster subscription services, Peel 'N Post update stickers are quick and easy to use – simply peel off the backing and post the sticker over the outdated notice on your All-On-One Poster or Mobile Poster Pak.
If you're looking for a complete compliance solution, order a fully up-to-date 2019 Colorado All-On-One™ Labor Law Poster, consolidating all state and federal required postings onto one convenient and attractive wall poster, or a Colorado Mobile Poster Pak™ booklet for mobile and off-site workers or your HR reference desk. Colorado products are available in English and Spanish.
KEEP IN TOUCH WITH CPC!
To keep up with the latest in labor law news and posting compliance, follow us on Facebook, LinkedIn, or Twitter or subscribe to this blog! You can also contact us by phone, email, or chat to order one of CPC's signature labor law compliance products or learn more about your company's individualized posting obligations. 
Please keep in mind that CPC cannot provide legal advice. If you have a question about how labor law applies to your specific workplace situation, please consult your local labor department or an employment lawyer.