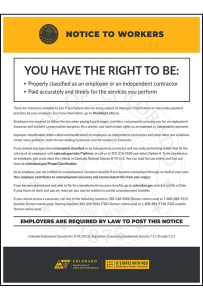 The Colorado Department of Labor and Employment (CDLE) has updated the mandatory Colorado Unemployment Insurance poster. The poster, which provides information on workers' rights to be properly classified as an employee or an independent contractor, has been substantially redesigned and rewritten with new information on how to obtain information on improper classification and file a claim for unemployment benefits.
Under the Colorado Employment Security Act, every employer that pays wages to one or more workers is required to post the updated Colorado Unemployment Insurance poster at or near work locations (Colorado Regulations Covering Employment Security, 7.3.4). CPC has made the Colorado Unemployment Insurance poster available as a Peel 'N Post™ update sticker, which allows employers to update workplace All-On-One posters quickly and easily.
Why has the Colorado Unemployment Insurance Poster Changed?
Over the past few years, Colorado has increased its focus on issues of employee misclassification. Under state and federal law, employees have rights and benefits that are not extended to independent contractors. When employees are improperly classified as independent contractors by their employers, they may be illegally denied benefits that they are entitled to such as unemployment and workers' compensation injury benefits. Improperly classified employees are also more vulnerable to wage theft and other violations of wage and hour laws.
In 2017, the Colorado Legislature passed the Wage Theft Transparency Act to make information about wage violations accessible to public records requests. In 2018, Governor John Hickenlooper created a task force to investigate the misclassification of workers in the construction industry.
In association with this task force, Colorado launched the WorkRight / Building a Better Colorado website to provide information on the proper classification of workers. The CDLE's Unemployment Insurance Division also stepped up its educational and information-gathering approach in several ways, such as requiring employers to fill out a Worker Classification Acknowledgement Form when applying for unemployment insurance coverage.
The Colorado Legislature has also recently passed a bill to "codify that labor is a thing of value subject to theft" in order to curtail labor trafficking and other forms of worker exploitation. If enacted, the bill will treat wage theft similarly to property theft rather than as a lesser crime. Employers who fail or refuse to pay wages and compensation over the amount of $2,000 would be guilty of felony theft under state law. Governor Jared Polis has until June 2, 2019 to sign the bill into law. If enacted, the law will go into effect on January 1, 2020.
What's New on the 2019 Colorado Unemployment Insurance Poster?
The Colorado Unemployment Insurance poster (also known as the "Notice to Workers") has been redesigned and rewritten with new information on the rights of employees and independent contractors. The notice is no longer provided in a bilingual format, but is available in English or Spanish.
The updated notice informs workers that they have the right to be properly classified as an employee or an independent contractor, and to be paid accurately and timely for the services they perform. The notice also informs employees that they are entitled to unemployment insurance benefits if they become unemployed through no fault of their own.
The notice provides new resources for employees to learn more about their rights, file a complaint, or access benefits:
New URL for the WorkRight Misclassification Taskforce website, which provides information on the differences between an employee and an independent contractor
New URL for the Unemployment Insurance Division's webpage describing proper classification of employees
New URL and telephone procedure to report improper employee classification
New URL for employees to file a claim for unemployment insurance benefits
 

GET THE 2019 Colorado Unemployment Insurance Poster NOW!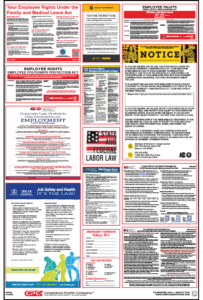 If you already own one of Compliance Poster Company's signature products, you can update the mandatory Colorado Unemployment Insurance poster using the 2019 Colorado Unemployment Insurance Peel 'N Post™, available for only $9.95.
The cost-effective alternative to poster subscription services, Peel 'N Post update stickers are quick and easy to use – simply peel off the backing and post the sticker over the outdated notice on your All-On-One Poster or Mobile Poster Pak.
If you're looking for a complete compliance solution, order a fully up-to-date 2019 Colorado All-On-One™ Labor Law Poster, consolidating all state and federal required postings onto one convenient and attractive wall poster, or a Colorado Mobile Poster Pak™ booklet for mobile and off-site workers or your HR reference desk. Colorado products are available in English and Spanish.
KEEP IN TOUCH WITH CPC!
To keep up with the latest in labor law news and posting compliance, follow us on Facebook, LinkedIn, or Twitter or subscribe to this blog using the link provided in the sidebar! You can also contact us by phone, email, or chat to order one of CPC's signature labor law compliance products or learn more about your company's posting obligations.