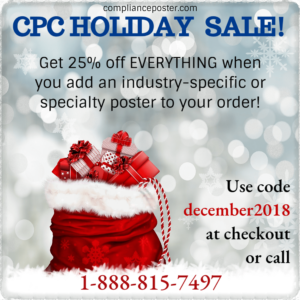 Our gift to you!
CPC's primary mission is ensuring the compliance of our business partners with our signature All-On-One Labor Law Posters, consolidating the most commonly-required state, federal, and OSHA required postings onto one convenient 27″ x 40″ poster. However, we're equally dedicated to making sure that every employer has the mandatory labor law posters required for their specific industry as well as informational specialty posters to reinforce crucial rules and policies for the workplace.
Informational posters can be used to supplement annual training sessions and serve as a year-long reminder of best practices or essential safety or emergency response information. Most importantly, displaying informational posters in the workplace lets your employees know that your workplace is committed to promoting and maintaining a safe and healthy working environment.
As a reward for that commitment, from December 3rd to the 31st, we're offering 25% off your ENTIRE ORDER when you order an industry-specific or specialty-poster. To shop CPC's holiday poster sale, simply add an industry-specific or specialty poster from the table below to your cart and enter the coupon code december2018. (You can also shop the Industry Specialty tag.)
| | |
| --- | --- |
| Safe Workplace Practices (All Industries) | |
| First Aid & Emergency Response (All Industries) | Agriculture |
| | Construction |
| Food Preparation & Restaurant | Healthcare |
| High Risk Industry | |
| Housing & Financial Services | Schools |
| | Warehouse & Manufacturing |
If your industry-specific or specialty poster is not on the list, call 1-888-815-7497 to contact a compliance advisor for a special holiday deal. As always, we've got you covered.
KEEP IN TOUCH WITH CPC!
To keep up with the latest in labor law news and posting compliance, follow us on Facebook, LinkedIn, or Twitter or subscribe to this blog! You can also contact us by phone, email, or chat to order one of CPC's signature labor law compliance products or learn more about your company's individualized posting obligations. 
Please keep in mind that CPC cannot provide legal advice. If you have a question about how labor law applies to your specific workplace situation, please consult your local labor department or an employment lawyer.