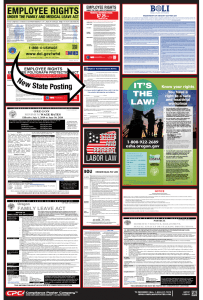 Oregon lawmakers are engaged with the needs and expectations of the evolving workforce, consistently passing new laws that better protect the welfare of employees.  Beginning January 1, 2020, working new moms and moms-to-be will benefit from these efforts.  This year, the Oregon Legislature passed two on-trend bills that require employers to make pregnancy-related accommodations for employees and job applicants.  Employers are also required to post a notice of their employees' new pregnancy accommodation rights and protections, which are described on the new Oregon Workplace Accommodations Notice.
Employment Protections and Rights Related to Pregnancy
The more substantial pregnancy-related measure that passed is House Bill 2341.  Beginning January 1, 2020, this law will require employers with six or more employees to provide reasonable accommodations for employees and job applicants with "known limitations related pregnancy, childbirth, or a related medical condition."
Specifically, the law prohibits an employer from:
denying employment opportunities because of the need of the employer to make a reasonable accommodation;
refusing to make reasonable accommodation, unless the accommodation would impose an undue hardship on the operation of the business given the difficulty or expense involved;
taking adverse action against an employee for inquiring about, requesting, or using a reasonable accommodation;
requiring an employee to accept unnecessary reasonable accommodations; or
requiring an employee to take family leave or any other leave instead of making a reasonable accommodation.
The law does not limit the types of accommodations an employer might make, but suggests the following accommodations:
Acquisition or modification of equipment or devices;
More frequent or longer break periods or periodic rest;
Assistance with manual labor; or
Modification of work schedules or job assignments.
The law requires employers to a post sign in a conspicuous and accessible location informing employees of the protections under the act.  In addition, the employer must provide a written copy of the notice:
to new hires at the time of hire;
to employees within 180 days of the act's effective date (i.e., by June 29, 2020); and
to a pregnant employee within 10 days of being informed her pregnancy.
Rest Periods for Expression of Milk
The other accommodation measure passed by the 2019 Oregon Legislature was House Bill 2593.  The law, which went into effect on September 29, 2019, expanded the existing protections relating to the expression of milk in the workplace.  Here's what changed:
Previously, the law required an employer to provide an employee with the need to express milk with a 30-minute rest period in each four-hour work period.  HB 2593 removed these frequency and duration limitations.  Now, an employer is required to provide an employee a reasonable rest period to express milk each time the employee has a need to express milk.
Previously, any employer who could show undue hardship was not required to provide lactation rest breaks.  The law now limits the ability to claim undue hardship to employers who have 10 or fewer employees.
Previously, the requirement to provide lactation rest breaks only applied to employers with 25 or more employees.  Today, the law applies to all employers regardless of size.
New Posting Requirement
To assist employers with HB 2341's new posting requirement, the Bureau of Labor and Industries (BOLI) created a new "Workplace Accommodations" Notice to inform employees of their protection from class discrimination and their disability and pregnancy-related accommodation rights.  We include the new the Workplace Accommodations Notice our 2020 Oregon All-On-One™ Labor Law Poster.
Don't miss the new law's January 1 posting compliance deadline. Displaying the 2020 Oregon All-On-One Poster in the workplace ensures that you are in complete compliance with each of the state's labor law posting requirements.