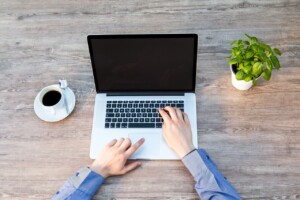 The Maine Department of Labor (MDOL) has updated the mandatory notice which details the Maine Video Display Terminal (VDT) law. This law, which was enacted in 1989, requires employers with employees who regularly operate a "video display terminal" (i.e., a computer) to implement a training and education program to protect workers from adverse effects that might result from extended use.
Maine Video Display Terminal Training Requirements
Employees must be trained if their work requires that they regularly operate a computer for more than 4 consecutive hours. Employers who have 5 or more computers at a single location are required to provide the education and training program both orally and in writing, while employers with 2 to 4 computers at a location only need to provide their program in writing. (Employers with 1 computer at a location are not required to implement the education and training program.)
Covered employees must be provided with education and training materials within 30 days of employment, and retrained at least once per year during every year of employment. The program must include, at a minimum:
an explanation of the proper use of computers,
an explanation of protective measures which should be taken to minimize symptoms or conditions that may result from extended or improper use of computers, and
instructions related to proper posture when using a computer, including the use of any adjustable work station equipment used by the employee.
Maine Video Display Terminal Poster
The Maine Video Display Terminal law also requires that employers notify employees of the rights and duties created under the law by posting "a copy of [subchapter 2-A of the Maine Video Display Terminal law] and a written notice that explains these rights and duties in plain language" (Title 26 M.R.S.A § 252 (1)(A)) in a prominent location in the workplace.
Although MDOL was not previously required by law to produce a notice which fulfills the VDT posting requirements, it was granted the ability to produce state labor law notices that the department believes may be "required or useful" for employers. Any employer subject to the laws outlined in a MDOL-produced notice is required to post a copy "in a place accessible to the employer's employees" (Title 26 M.R.S.A § 42-B (3)).
For several years, MDOL furnished employers with a notice entitled "Safe Work for Computer Operators" which described the provisions of the VDT law in plain language. Under a new law, SB 553, MDOL is legally required to produce the VDT-required notice, effective November 1, 2017. In advance of this  date, the department has chosen to revise its VDT poster in order to better fulfill the requirements of the law.
What's changed?
The title of the notice has been changed to "Video Display Terminals," and it now provides the full text of the VDT law, which is in reasonably "plain" language. The posting advises employees to contact a supervisor or MDOL if they have questions about working safely at the computer, and includes contact information for MDOL's SafetyWorks program. The revision date has been changed to 04/17, although the updated notice was not made available until this month. The notice was last updated in 2015.
Employers should also keep in mind that SB 553 also implements a new structure of fines to be issued to employers for failure to post copies of MDOL-issued labor law notices. Previously, the penalty for a first violation could not be less than $50 or more than $250. Under the new structure, employers will be issued a fine of up to $25 per day after being notified of the violation, not to exceed $1,000. Second and subsequent violation fines are also increased accordingly.
Your Compliance Solution
If you already own one of Compliance Poster Company's signature products, you can update your VDT posting with this cost-effective 2017 Maine Video Display Terminals Peel 'N Post™ sticker for only $9.95.
If you're looking for a complete compliance solution, order an up-to-date Maine All-On-One™ Poster, consolidating all state and federal required postings onto one convenient and attractive wall poster, or a Mobile Poster Pak™ booklet for mobile and off-site workers. You can also purchase an OSHA Ergonomics Poster to supplement your training program on proper computer use and other workplace tasks.
Don't forget to follow us on Facebook and Twitter, or subscribe directly to this blog, to keep up with posting compliance and labor law news!