Pittsburgh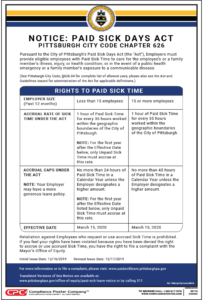 In 2015, the City of Pittsburgh passed the Paid Sick Days Act requiring employers to provide sick time to employees. However, the authority to pass the ordinance was challenged in court, delaying implementation. It was not until July 2019 that Pennsylvania Supreme Court upheld the city's authority to pass the ordinance.
Effective March 15, 2020, employers in the City of Pittsburgh must provide eligible employees with paid sick time. A "covered employee" is defined as an individual employed by an employer who performs work within the geographic boundaries of the City of Pittsburgh for at least 35 hours in a calendar year. The leave may be taken for (a) the employee's physical or mental illness or injury, preventive medical or health care or health condition; (b) the employee's need to care for a family member's physical or mental illness, preventative medical or health care, injury or health condition; or (c) the closure of the employee's place of business, or school or care center attended by the employee's child, due to a public health emergency.
Employers with 15 or more employees must provide employees with at least one hour of paid sick time for every 35 hours worked, up to 40 hours per year. Employers with less than 15 employees must provide employees with at least one hour of unpaid sick time for every 35 hours worked, up to 24 hours per year. Then starting one year after the effective date, employees may begin to accrue paid sick time. Accrued but unused sick leave up to the yearly cap must be carried over to the following year. If employers provide the maximum number of hours of paid sick time mandated by the law at the beginning of the calendar year, it is not required to carry over the employee's unused accrued sick time from the previous calendar year. The accrual of sick time must begin on March 15, 2020 for existing employees. Employees hired after the effective date will begin to accrue paid sick time at the commencement of their employment. All employees will be entitled to use accrued sick time beginning on the 90th calendar day following the commencement of their employment. Employers are prohibited from retaliating or discriminating against an employee because the employee exercised his or her protected rights.
Employers are required to display the Pittsburgh Paid Sick Time Poster in a conspicuous and accessible location where employees work in English, Spanish and any other primary languages of the employees. (Pittsburgh City Code, Sec. 626.06) Employers that violate this posting provision will be subject to a fine.
Philadelphia
In 2018, Philadelphia Mayor Kenney signed into law the Fair Workweek bill. Under the new law, a retail establishment, a hospitality establishment or a food services establishment that employs 250 or more employees and has 30 or more locations worldwide must provide each employee with a written, good faith estimate of the employee's work schedule. An "employee" is defined as any person employed or permitted to work at or for a covered employer within the geographic boundaries of the City of Philadelphia, who is required under state or federal law to be paid at an overtime rate for hours in excess of a maximum number per workweek, including but not limited to full-time employees, part-time employees, and seasonal and temporary workers. A "food services establishment" is defined as a food services contractor; caterer; mobile food service; drinking place (alcoholic beverages); full-service restaurant; limited-service restaurant; cafeteria, grill buffet, or buffet; or snack and nonalcoholic beverage bar, as defined under the 2012 and 2017 NAICS 722.
Effective April 1, 2020, the written, good faith estimate must be provided in a conspicuous and accessible location where employee notices are customarily posted, at least 10 days before the first day of the new schedule. The written estimate must contain the following:
The average number of work hours the employee can expect to work each week over a typical 90-day period;
Whether the employee can expect to work any on-call shifts; and
A subset of days and a subset of times or shifts that the employee can typically expect to work, or days of the week and times or shifts on which the employee will not be scheduled to work.
Starting January 1, 2021, the work schedule must be posted at least 14 days in advance. If the employer posts the notice in electronic format, all employees in the workplace must have access to it on-site. An employer must provide notice of any proposed changes to the work schedule as promptly as possible and prior to the change taking effect. The employer must revise the written work schedule to reflect any changes within 24 hours of making the change. If the employer makes a change to the work schedule after the required advance notice, the employer must pay the employee a predictability pay, in addition to the regular pay for hours actually worked by the employee. An employer must pay a predictability pay when the employer (a) reduces hours; (b) changes a scheduled work location; (c) adds additional hours after receiving employee consent; and (d) makes changes to an on-call shift, including not calling an employee in to work.
Covered employers are also required to post the Philadelphia Fair Workweek Poster in an accessible location where other notices are posted. (The Philadelphia Code, Sec. 9-4608) The poster must be in English and any other language that is the primary language of at least 5% of employers' existing employees.
Additional Philadelphia Posters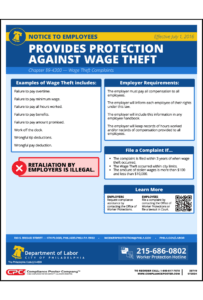 Employers in the City of Philadelphia are also encouraged to update their Paid Sick Time and Wage Theft posters. The City of Philadelphia has recently redesigned these posters in both visual design and text. Each poster contains additional information pertaining to the corresponding law. For example, the Philadelphia Paid Sick Time Poster now includes examples of violations of the law, and informs that employers must keep records of sick leave accrual and use for all employees for two years.
To order the updated posters, click the links above or call your Compliance Advisors at 1-888-815-7497.